Wood Stoves Available in Onalaska, WI
Warming Trends has several brands of wood stoves available. Those brands include: Archgard, Osborn, Vermont Castings, Harman, and Heatilator.
Wood heat is low cost heat-wood tends to cost less per BTU than other fuels or electricity does. And it's free for those who like to cut their own wood of course. Another reason it costs less to heat with wood is the "zone heating" aspect. The radiant heat of a wood stove truly warms in a way that hot air systems can't. Most people find they can heat the area they like with a wood stove and let the rest of the house be cooler.
Today's wood heating appliances are designed for beauty. A wood stove can be the focal point of the room. Regardless of your taste, there's a stove designed for you. One of the great advantages of wood heating is having heat when there is no power. Wood is a renewable and easily obtained source for burning.
Archgard Wood Stoves
When you purchase an Archgard product you can count on uncompromising Quality, meticulous Design, and the Dependability to keep you and your home warm for years to come. Archgard also manufactures inserts and fireplaces.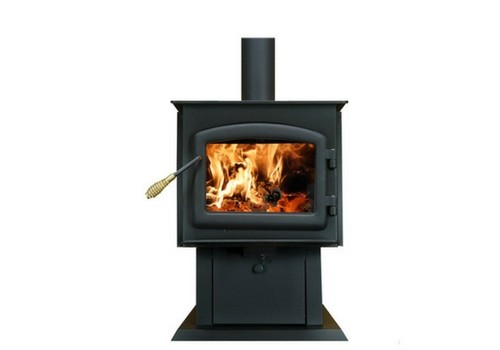 Archgard 1600 & 1800 Wood Stove
The compact Archgard 1600 & 1800 Freestanding Wood stoves combines the latest fire technology with a sleek design. Built to last with efficiency and attractive style in mind, this stove will turn your house into the warm and comfortable home of your dreams. 1600- approximate heating area 800-1500 sq feet (65,000 BTUs). 1800- approximate heating area- 1000-2000 sq ft (78,000 BTUs).
Osburn Wood Stoves
With Oshburn you can choose from a wide range of premium quality Canadian made heaters specifically designed for your home. We also have Oshburn fireplaces and inserts available. See all available Osburn Wood Stoves by clicking the arrows below.
Vermont Castings Wood Stoves
When you purchase a Vermont Castings product you are getting the promise of true American craftsmanship with timeless designs and furniture quality finish. We also have Vermont Casting fireplaces and inserts available. See all available Vermont Castings Wood Stoves by clicking the arrows below.